1. In order to use the touch or interactive pens with a Boxlight P12 Projector you have to first have the Boxlight Touch Driver & Calibration software installed. Click Here to download the software for your computer and follow the onscreen prompts for installation. After installing the software you will see a window with different color squares.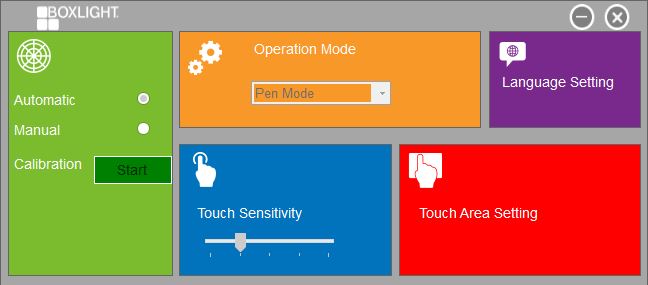 2. Choose the appropriate Operation Mode located in the orange box. Pen Mode is for use with interactive pens only. Touch Mode is for use with a Boxlight Laser Curtain that should be installed at the top of your whiteboard located just above the projected image with a blue light indicating power.
3. Touch Area Setting is to set the area that is allowed for touch to work within. To properly set the area the green lines should be just outside of the projected white lines. In order to achieve this you need click on the corner circle that requires adjustment and drag the circle to the appropriate position. Once all the circles and green line is just bordering outside the white projected line you can proceed to click exit to save the setting. Only applies to Touch Mode.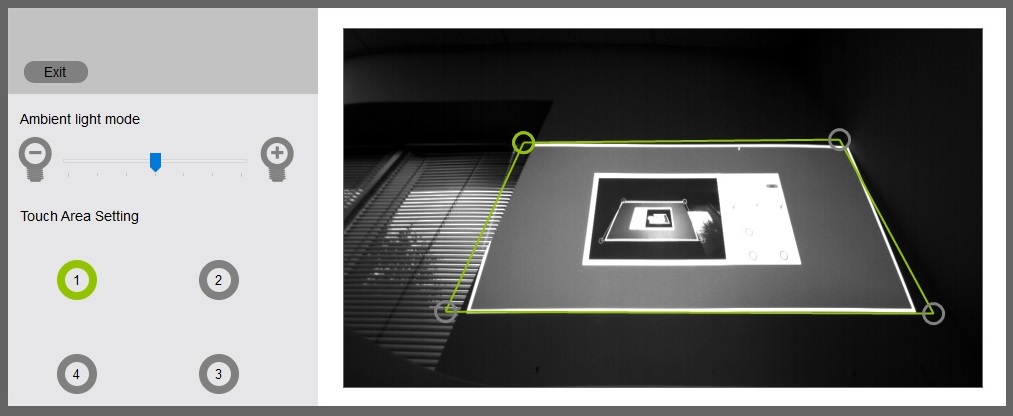 4. Touch Sensitivity is to adjust how sensitive the whiteboard reacts to a touch event. Normally this setting is set to 1 or 2 position. Only applies to Touch Mode.
5. Green Calibration Target is to calibrate with Touch Mode and Pen Mode. A target will show at each corner of the screen, use either your finger or the interactive pen to click the center of the target.
Once all these steps are completed the projector is now ready to use with Touch Mode or Pen Mode.
If you are not able to successfully use the interactive pens or finger touch with the whiteboard please contact us so we may troubleshoot the issue further.